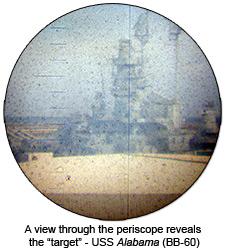 USS Drum Stats
Class:
Gato-class
Length:
311 feet, 9 inches
Beam:
27 feet, 3 inches
Engines:
4 Fairbanks-Morse
9 cylinder opposed piston
diesel engines
model 38D8-1/8
Motors:
4x Elliott electric motors
with reduction gears
Batteries:
2x 126 cell Sargo batteries
Propellers:
2x 4-bladed propellers
Max speed
surfaced:
20¼ knots
(± 23 MPH)
Max speed
submerged:
8¾ knots
(± 10 MPH)
Range
surfaced:
11,000 nautical miles
at 10 knots
Patrol
endurance:
75 days max
Test depth:
300 feet
Crew:
Up to 8 officers
& 75 enlisted men
Torpedoes:
10x 21 inch torpedo tubes
(6x forward, 4x aft)
24 torpedoes
Forward
deck gun:
5"/25-caliber
Forward
AA gun:
40mm Bofors
Aft
AA gun:
Twin 20mm Oerlikon
"The Drum can't be beat!"
The USS Drum (SS-228), a Gato-class diesel-electric submarine, has been at home in Mobile, Alabama for nearly 40 years now. Since opening as a museum on July 4, 1969, the Drum has been a silent reminder to thousands of visitors of the 52 submarines and over 3,600 submariners who made the ultimate sacrifice in WWII. Still, many people throughout the southeast United States have no idea such a rare naval WWII icon is right in their own back yard.

Now residing on land nearby the USS Alabama (BB-60) battleship in Battleship Memorial Park lies the USS Drum (SS-228), the oldest American WWII submarine in existence. Why not plan a trip to Battleship Memorial Park in Mobile, Alabama where you can get inside of a WWII-era battleship and the USS Drum submarine? See the Visitor Info page here for more information on visiting Battleship Memorial Park as well as the surrounding area.
Use the navigational links at the top of each page to learn about her past, her present, and her future. The Drum has an impressive history and a lot of character. After looking over this website I hope that you will feel motivated to pay her a visit and maybe even help out with her upkeep.
You can find the USS Drum (SS-228) at the following coordinates: Latitude +30°40'52.40" North, Longitude -88°01'00.00" West.
Thanks to Theodore DuBois, Ruth Hand, & Randall Sayers for this great tour video.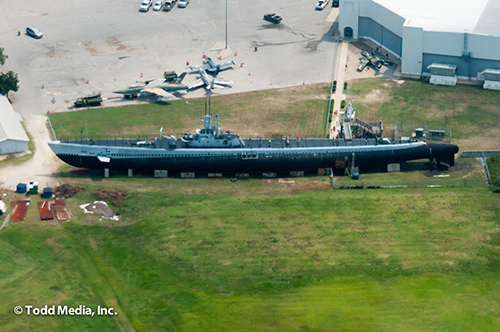 Image used by permission Todd Media Aerial Photography.
This site is best viewed with a screen resolution of 1024x768 or higher.
This page last updated 8/3/2018
DRUM228.ORG created 10/3/2008


sitemap.html